by Rachel Aretakis Reporter/social engagement coordinator-Business First
There's been a shift in the way consumers buy products.
Before, marketers had more control over how consumers received information.
"Now, the customers are in charge," said J.C. Stites, CEO of Autodemo LLC, which produces automated demonstrations to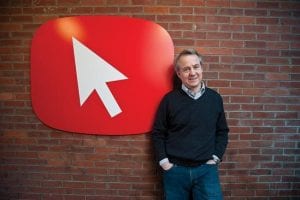 showcase software products and websites.
It used to be that early on in the sales process, a consumer would contact a company about a product, such as by going into a store, he said. Now, customers do research beforehand and contact the company much later in their purchasing-decision process.
It's all about content marketing, he said, and smart marketers are tapping into this by using social media and videos to market to their customers.
Consumers "have got to feel good about the brand, that there's a trust, a relationship there," he said.
To help companies engage clients through these channels, Autodemo recently launched a product called InfoVideos, which produces an animated video from infographics. Because Autodemo uses a client's existing infographic, Stites said, a lot of the production is already complete. His staff adds music, transitions and voice overs. (Check out an example called "How to Socialize Your Video" on Autodemo's website.)
"We've seen an incredible growth in infographics, especially in the tech industry," he said. Products such as InfoVideos incorporate content marketing to provide information about a company, brand or product.
Because of these trends, InfoVideos is a natural progression for his company, Stites said.
Previously, more of Autodemo's videos were very "product-centric," focusing on a software or web application, he said. For example, the company produced a video about Kelley Blue Book, a research platform for new and used cars, that focuses on how to use the platform's tablet app.
But increasingly, the company is producing videos that engage customers with content that is further removed from the product. Stites said about 25 percent of Autodemo's business comes from more conceptual and entertaining videos.
This new mode of marketing is different, but not necessarily harder, he said. And everyone is making the switch. "It's the evolution of marketing in the web 3.0 era."
To view the original article you can see it here: https://bit.ly/AutodemoBusinessFirst102014