Any sales cycle worth its salt involves a multi-leveled, strategic plan of action.  And more often than not most sales organizations and their teams abide by a Lead Generation/Prospecting/Qualifying/Presentation-Closing process that we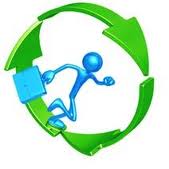 believe is most effective when it employs seven simple steps, strategically ramped up with the addition of an autodemo.
They are:
1.     Lead Generation: A critically important component to kick start the flow and enhanced efficiency of the sales cycle, this universe of unknown entities will soon identify themselves as interested potential prospects when they register via an autodemo.
2.     Prospecting, Part 1: A well-tagged autodemo on a website will not only engage existing traffic, it will attract the attention of new prospects that happen upon it in the course of doing online business or research.
3.     Prospecting, Part II: As above, an autodemo shared via social media will engage existing clients and potential prospects.  And since it's so easily shared with others, prospects can easily beget prospects; an exponential prospecting potential.
4.     Contact: An engaging, professionally-produced autodemo will work to establish initial contact with a contact and inherently ask, "You've seen our autodemo, how can we answer any questions you have?"  Once those questions are elicited, the prospect's needs can be accurately assessed and summarized before sales reps reach out to the very first contact…a contact that will then be more productive when prospects step up with informed inquiries based on the knowledge they've attained from the autodemo.
5.     Qualifying: It's all about going straight to the heart of the sales cycle with an autodemo that delivers qualified leads directly into the pipeline when interested parties make contact.
6.     Presentation: Not only will an autodemo deliver autonomous presentations via email or online marketing, sales teams can utilize them during all-important sales calls. Given the standardized information and a comprehensive overview of the solution provided within the autodemo, prospects will make well-informed business decisions as they take advantage of the personal attention and additional resources of face-to-face interaction with sales reps.  Icing on the cake in addition to all of this? An autodemo during this stage of the cycle is also wildly effective to engage and sell the 'influencers'.
7.     Objections: Anticipate common objections for sales solutions, address them broadly in an autodemo, and prospects will feel confident in the knowledge that a sales organization has researched their industry, and their business needs, and is prepared to intelligently address specific questions and concerns.
8.     Referrals: Once the deal is done an autodemo will be at the fingertips of the new client where he/she can easily share and keep it top of mind to tip off the next prospect in the sales cycle.
Check out some of our work here: https://autodemo.com/our-work/
[In addition to the above, reference our Fall 2012 blog Top 10 Places to Use your Software Demo!]